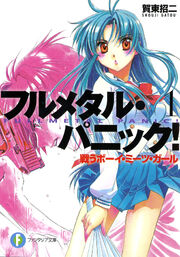 Full Metal Panic! (フルメタル·パニック! Furumetaru Panikku!?, often abbreviated to FMP!) is an ongoing series of light novels written by Shoji Gatoh and illustrated by Shiki Douji. The series followsSousuke Sagara , a member of the covert anti-terrorist private military organization known as Mithril , tasked with protecting Kaname Chidori , a spirited Japanese high school girl.
Setting
The series is set in a parallel world, based upon actual world events around the late 20th century to the early 21st century. The story begins in Heisei 10 (1998 AD), where the Cold War has yet to end. China has split into a north and south, with Hong Kong being split much like Berlin. The major differences between real life Earth and the Full Metal Panic! universe are:
A number of other details differentiates the fictional world. Common changes occur in the Japanese names, as they use homonyms to the names of real life locations. The fictional Jindai (陣代) High School is based on the real life Jindai (神代) High School in Chōfu, Tokyo. The closest station to the real life Jindai High School is the Senkawa station, changed from 仙川 to 泉川. The Japanese calendar of Heisei is altered from 平成 to 平政.